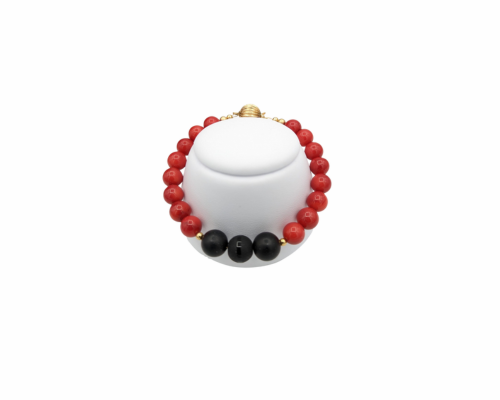 Elevate Your Style with Handmade Gemstone Bracelets and Necklaces
Fashion and style are two of the most significant aspects of modern-day living. People tend to choose their clothing based on their personality, mood, or occasion. But have you ever wondered why some people look more stylish than others, even when they are wearing the same outfit? The answer lies in the art of accessorizing. In this article, we will discuss the impact of handmade bracelets and necklaces on your style and how you can incorporate them into your wardrobe.
What is Accessorizing?
With the right accessory, you can take your outfit from drab to dynamic. Kick it up a notch with handmade jewelry like bracelets and necklaces - perfect for adding flair! Elevate an ensemble by topping off with fun hats, scarves or versatile bags – they're all surefire ways of making heads turn.
The Benefits of Wearing Handmade Gemstone Bracelets and Necklaces
Handmade bracelets, earrings and necklaces offer several benefits that can enhance your style and overall look. Here are some of them:
1. Uniqueness
Handmade jewelry is more than just an accessory to complete your outfit. It is a unique work of art that reflects the passion and creativity of the artist who make them. Attention to detail and use of high-quality materials ensure that each piece is a valuable investment.
When you wear a handmade bracelet or necklace, you not only look stunning, but you also feel confident and proud to showcase a one-of-a-kind piece. Discover the timeless beauty and value of handmade jewelry and elevate your outfit with our stunning collection.
2. Personalization
Stand out from the crowd and make a statement with a custom-made piece of handmade jewelry. I can work with you to create a piece that reflects your unique style and preferences. Whether you want to add a pop of color to your wardrobe or honor a special occasion, I can help you bring your vision to life.
The process of customizing a piece also adds personal meaning and sentimentality to the jewelry. As each piece is made-to-order, it becomes a one-of-a-kind treasure that holds a special place in your heart. Shop the collection today and start personalizing your style with a one-of-a-kind piece of jewelry.
3. Quality
They are made with quality materials and craftsmanship. I takes time to select the best materials and use techniques that ensure durability and longevity. At Sweet Pea Gemstones, we only use ethically sourced gemstones. This quality ensures that the piece will last for a long time, and you won't have to replace it frequently.
4. Versatile and Chic
Looking for a timeless accessory that can be worn on any occasion, from casual to formal? Look no further than handmade jewelry. Our versatile collection of bracelets and necklaces can be easily layered or worn alone, making them perfect for lending an extra touch of elegance to your outfit.
These chic pieces can be customized to suit your unique sense of style and can match any outfit you decide to wear. They add a touch of class and glamour to a simple outfit and add the perfect finishing touch to a dressier look.
Invest in a piece of handmade jewelry today and elevate your wardrobe to new heights!
5. Sustainability
They are often made with sustainable materials and practices. I take care to use materials that are eco-friendly and support local communities. This sustainability aspect ensures that you are enhancing your style and contributing to a better world.
Tips for Choosing the Right Handmade Gemstone Bracelets, Earrings and Necklaces
When choosing handmade bracelets and necklaces, there are several factors to consider. Here are some tips to help you make the right choice:
1. Express Your Style
Choose a piece that matches your style and personality. If you prefer bold and statement pieces, we have a selection of striking necklaces and bracelets that are sure to turn heads. If subtlety is more your style, we also have delicate and minimalist pieces that add just the right touch of elegance to your outfit.
No matter your preference, our handmade jewelry is made with the utmost attention to detail and crafted from the highest-quality materials.
2. Consider the Occasion
Choosing the right piece of handmade jewelry for an event is all about finding a piece that complements your outfit and fits the occasion. Our collection offers a range of pieces that can suit any setting, from formal affairs to casual outings.
For formal events, elevate your outfit with a statement necklace or elegant earrings. Our collection features intricate and sophisticated pieces that add the perfect touch of glamour to any ensemble.
For more casual occasions, our collection of bracelets and necklaces adds a touch of fun and playfulness to your outfit. Mix and match with different pieces to create a unique and personalized look.
3. Consider the Materials
Pick those that are made with quality materials that will last for a long time. Look for materials such as sterling silver, gold, and natural gemstones. Also, consider the sustainability aspect and choose a piece made with eco-friendly materials.
4. Consider the Craftsmanship
At our store, quality craftsmanship is a top priority. We believe that every piece of handmade jewelry should be crafted with care and precision, and should be made to last a lifetime.
When selecting a piece of handmade jewelry, it's important to look for details that indicate quality craftsmanship, such as precision in the design, neatness in finishing, and durability in the materials used. Our skilled artisans take great care in ensuring that every piece meets these standards.
We use only the highest-quality materials for our handmade jewelry, including fine metals and gemstones. This ensures that every piece is not only beautiful but also durable and long-lasting.
Conclusion
Indeed, handmade bracelets, earrings and necklaces are a great addition to any wardrobe and they last a lifetime. They offer uniqueness, personalization, quality, versatility, and sustainability. When choosing a piece, consider your style, the occasion, the materials, and the craftsmanship. With the right piece, you can transform your outfit and enhance your style.
If you are looking for a great source of handcrafted bracelets online, look no further than our colorful selections here at Sweet Pea Gemstones. We specialize in custom gemstone jewelry, and we use only ethically sourced gemstones in our one-of-a-kind unique pieces and limited edition collections. Click on the Shop tab above for more of our one-of-a-kind and limited edition jewelry.