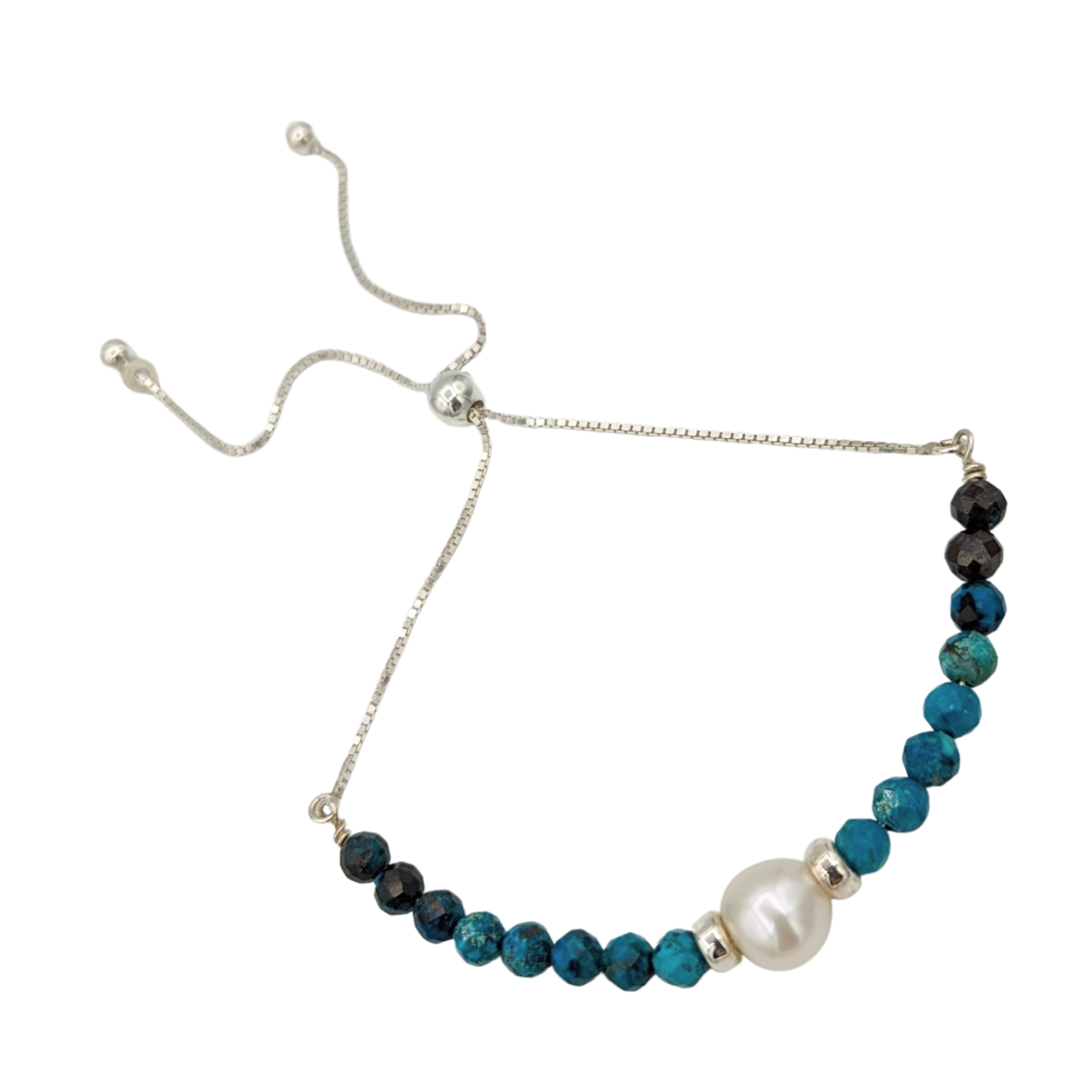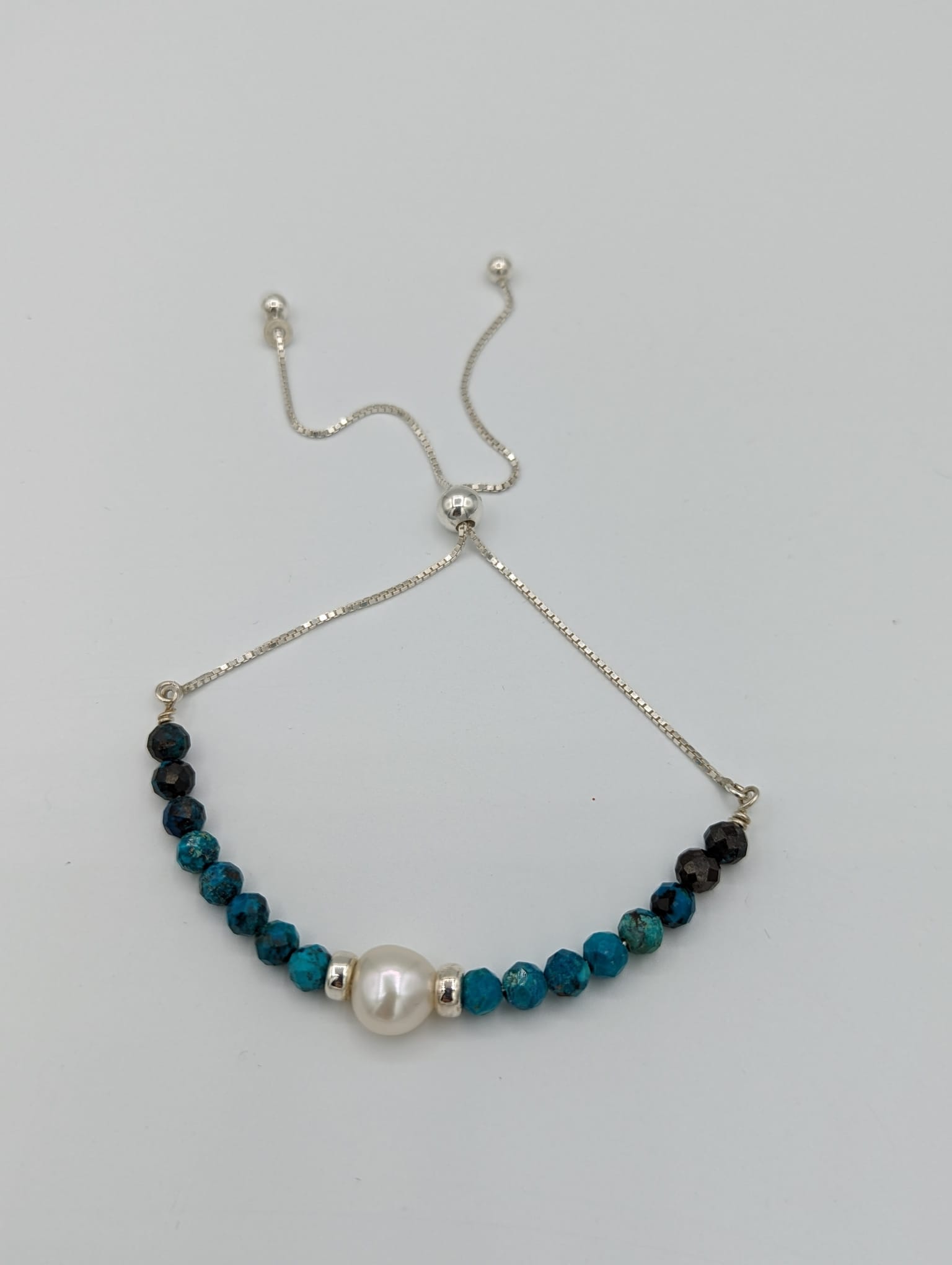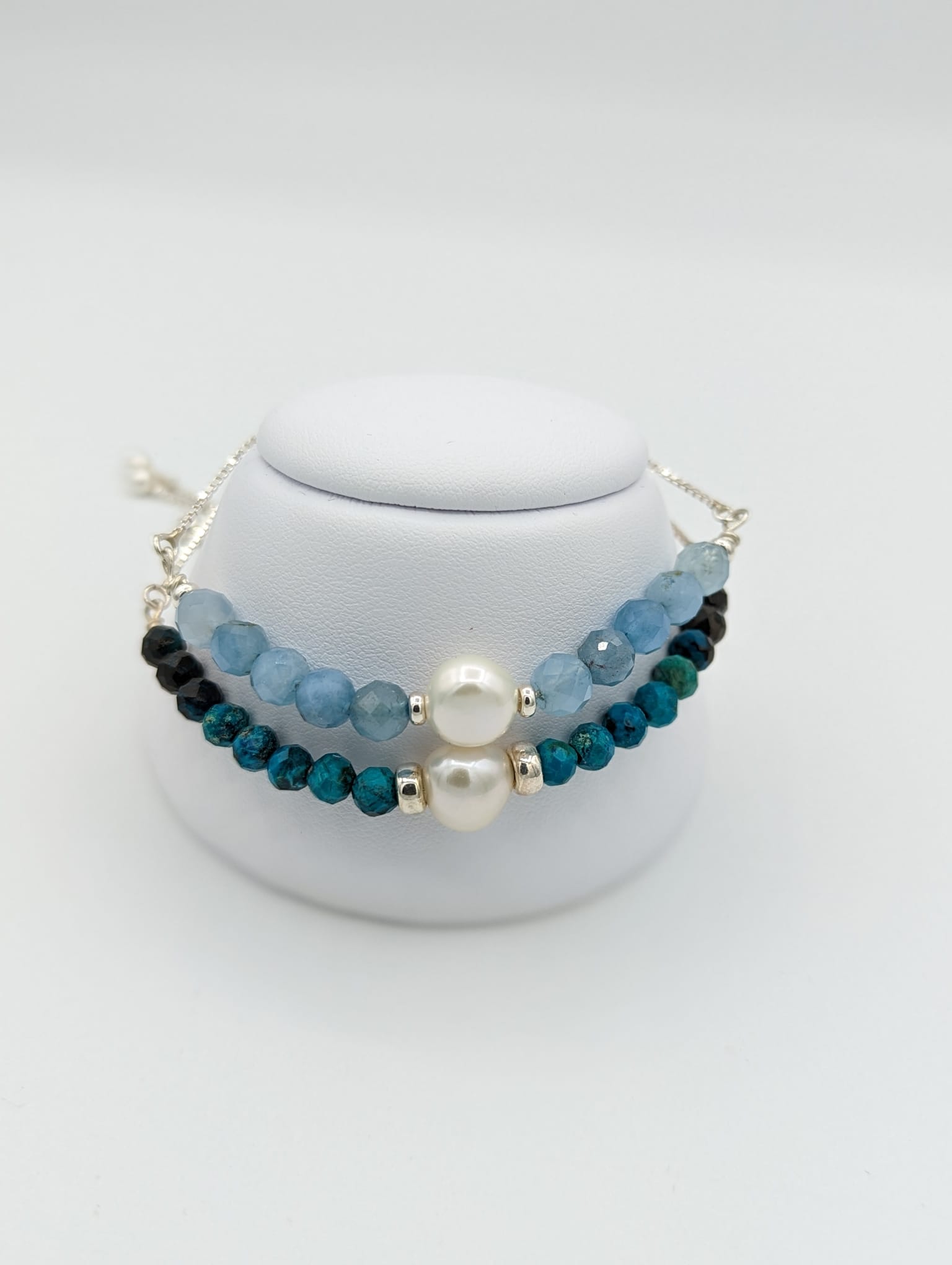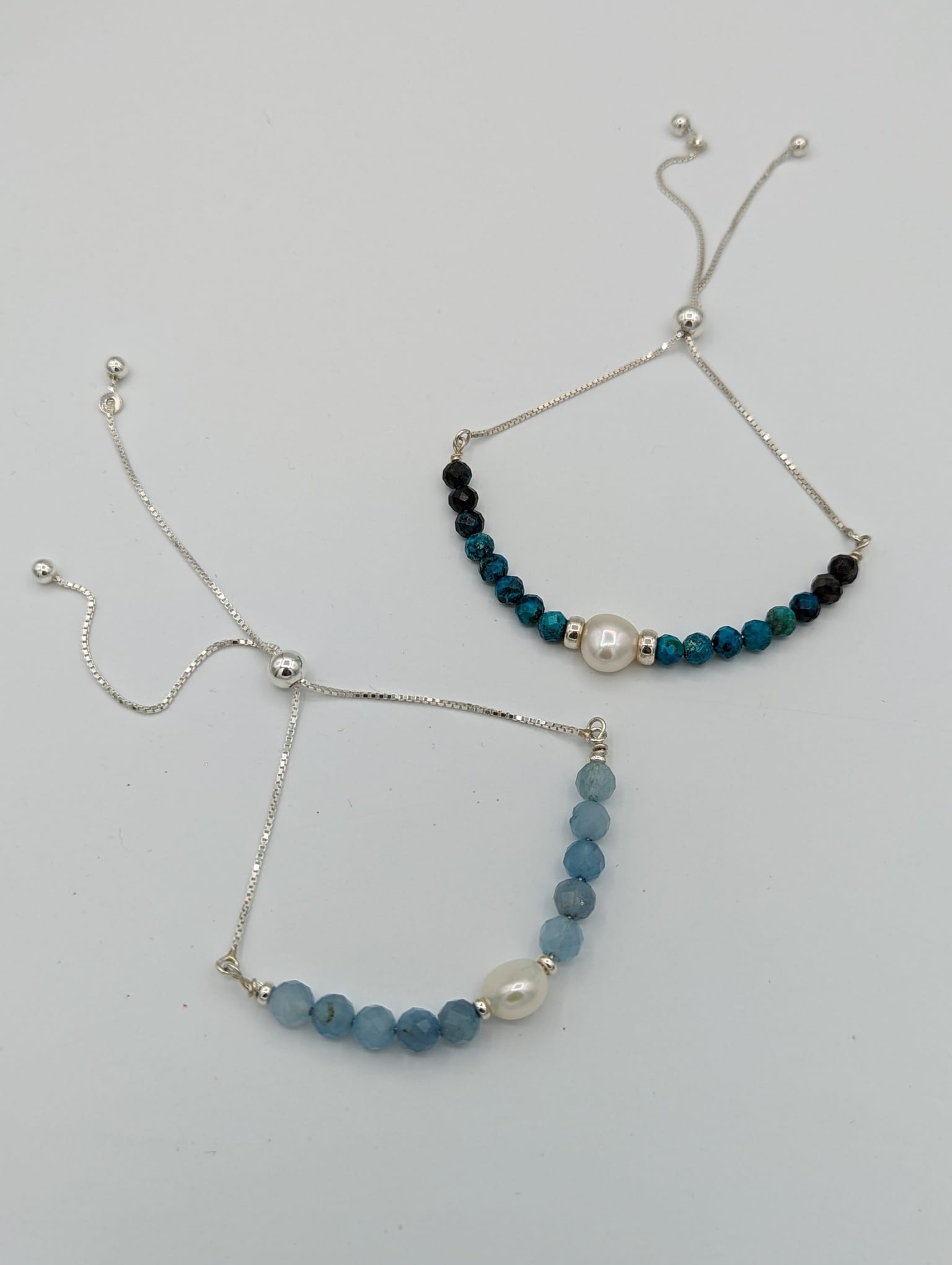 GEM GUARANTEE
Each piece of handcrafted jewelry carries a 1-year warranty against defects of craftsmanship.
This adjustable Chrysocolla AAA Grade and Coin Freshwater Pearl Bolo bracelet brings a splash of spunky blue to any winter attire. These bright hues of blue are reminiscent of the depths of an ice cave brought into the light with a single statement pearl. This bracelet adjusts with ease between 6 and 8 inches.
Be sure to check out the soft and gracious sister adjustable Aquamarine and Coin Freshwater Pearl Bolo Bracelet.

Stone Properties: Chrysocolla, frequently found in oxidized copper deposits, are often said to symbolize communication, expression of the sacred, goddess energies, gentleness and power. Pearls symbolize wisdom and are valued for their calming effects and serenity. On the flip side, Pearls can help strengthen valuable relationships and convey safety. Lastly, Pearls are also symbolic of purity, integrity, and loyalty. Perhaps this is why Pearls are such a popular gift between romantic partners.
Stone Hardness: Chrysocolla can be ranked between 2 and 4 on the Mohs hardness scale. Pearls are delicate and as such are ranked at a 2.5 on the Mohs hardness scale. Note that the scale for Mohs hardness ranks stone hardness from 1-10 with 10 being the hardest and 1 being the softest.

* Please note this is styled with other pieces that are available in the store.

SHIPPING & RETURNS/EXCHANGES:
Please allow 1-2 business days before your item is ready to ship, unless otherwise listed. Normally, items arrive within 5 days using USPS. This item can be exchanged within 14 days of receiving the item per our Return/Exchange Policy. I work hard to ship my jewelry as sustainably as possible, almost all shipping materials can be recycled.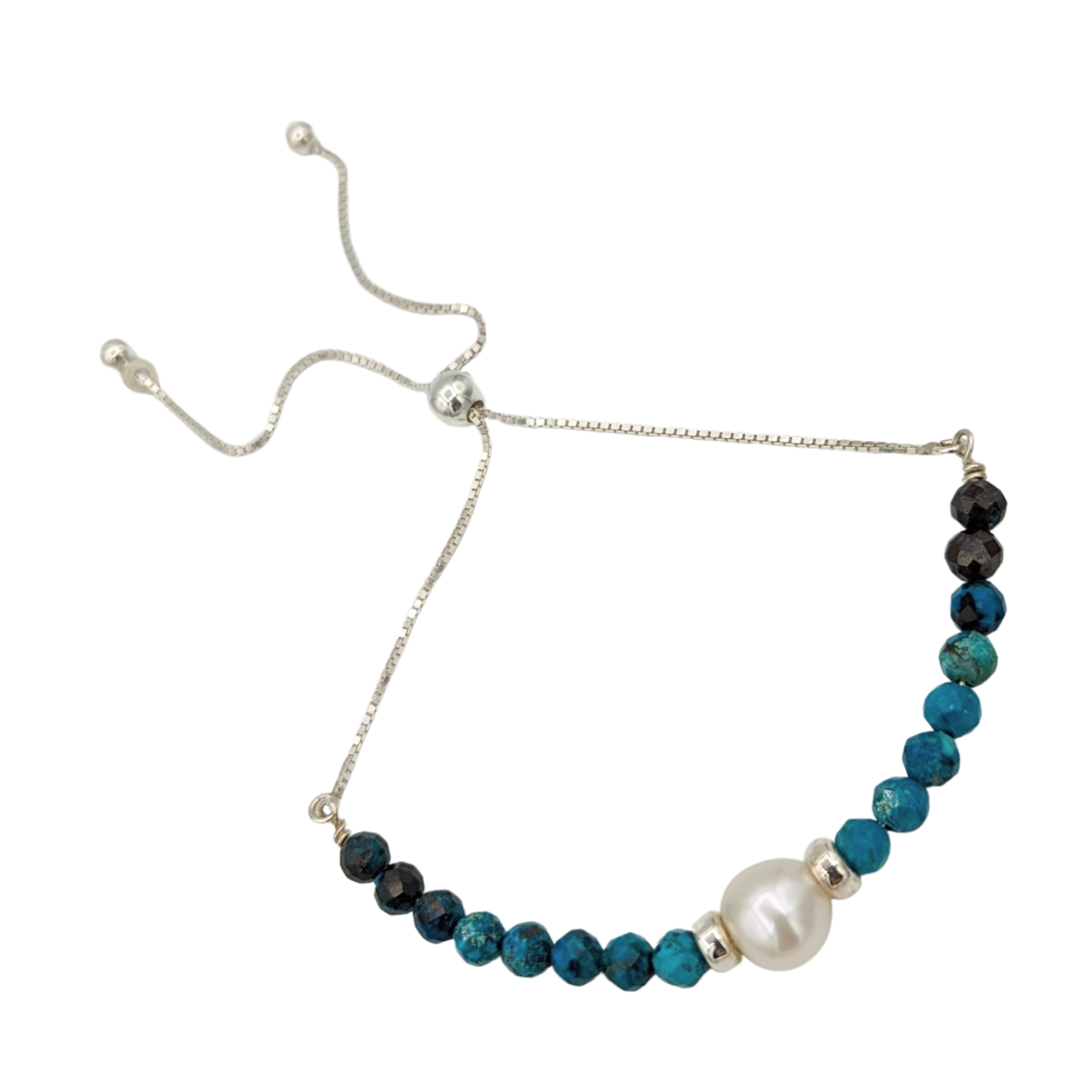 Sterling Silver Chrysocolla and Pearl Adjustable Bracelet
Sale price

$180.00 USD
Regular price

$220.00 USD
Choose options