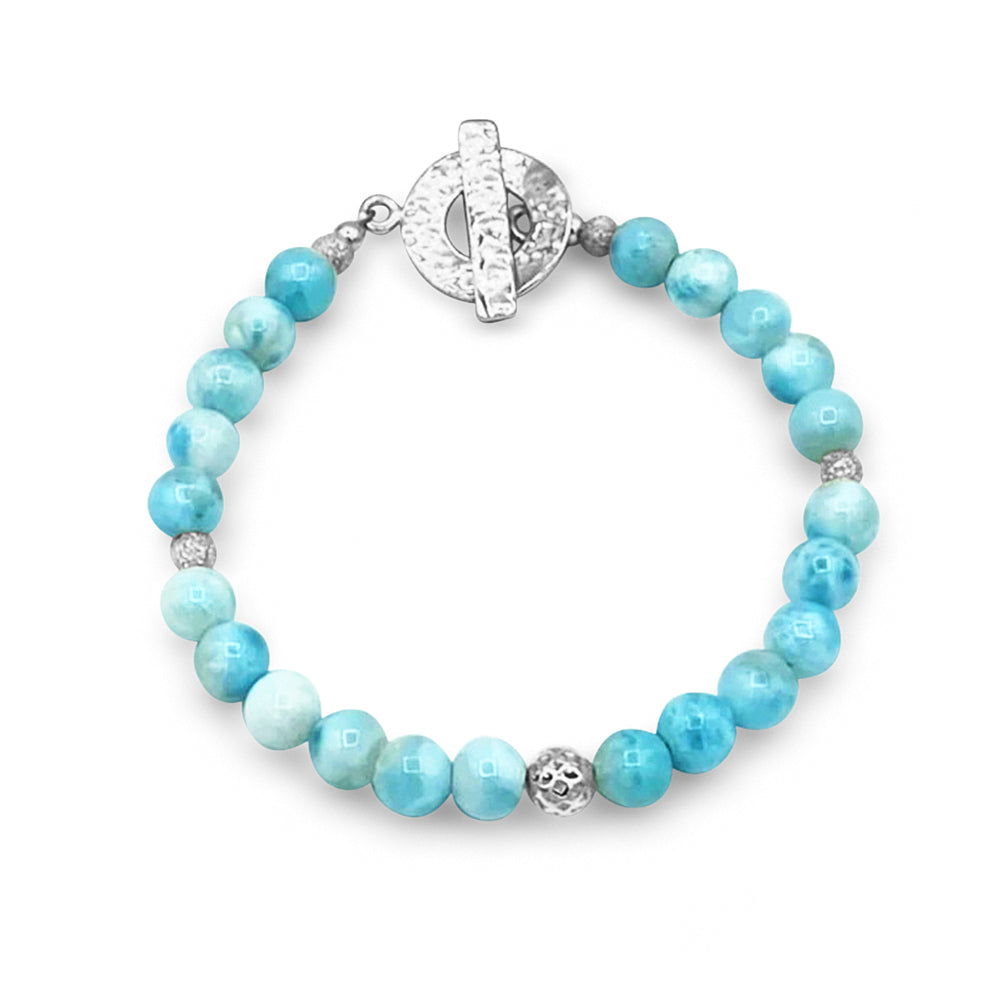 What gemstones do you gravitate towards?
My favorite is Larimar. Why do you ask? Because it's like looking into the blue ocean waters in Key Largo or Key West.  🌊 You will end up mesmerized.
Larimar is extremely rare blue variety of silicate mineral pectolite, these Larimar stones are personally sourced through a close vendor relationship and are 𝑨𝑨𝑨 𝑮𝒓𝒂𝒅𝒆, I'm swooning.  Larimar is only found in one location in the world, and that is in the Dominic Republic in the Caribbean, and in the city of Barahona. Its coloration varies from a bluish white, light blue, green blue, turquoise blue, to deep blue, dark blue and purple, and even indigo.
Pro Tip 🎯 The more intense blue color and contrast, the higher the quality and more rare it is.
Larimar is one of cardinal Water element stones, yet is born of Fire in its volcanic origins.  One of the few gemstones 💎 that balance the polarities of these energies. Larimar is known to cool tempers and calm your fears, relieves stress and nurtures the physical and emotional bodies. Who can't use a little of that?
Larimar is a stone for clear communication and provides courage and strength which is needed to speak from your heart. Additionally, it is very powerful in meditation and many people use it for meditation. In meditation, Larimar help you to see undesirable attachments and to release them and disconnect from beliefs that no longer serve you.

Be the only person to get this one-of-a-kind piece. I imagine you wearing this bracelet with a crisp white shirt, and a great pair of pants.  Be the one everyone is looking at! 
𝑮𝒆𝒕 𝒕𝒉𝒆 𝒔𝒆𝒓𝒆𝒏𝒆 𝒃𝒓𝒂𝒄𝒆𝒍𝒆𝒕 𝒃𝒆𝒇𝒐𝒓𝒆 𝒊𝒕𝒔 𝒈𝒐𝒏𝒆!
If you need a different size than what is on the website, I'm happy to resize for you at no additional charge.
https://www.sweetpeagemstones.com/products/larimar-bracelet
bracelets
There is nothing worse than a bracelet that doesn't fit properly.  Does your bracelet fit perfectly?
Read more